What you must know about membership card making
2022-12-02
1. Overview of membership card
Membership cards generally refer to ordinary identification cards, including membership authentication in shopping malls, hotels, fitness centers, restaurants and other consumption places. They have a wide range of uses, and can be applied to identification cards wherever identification is required. Membership cards are currently the most widely used cards.                 
2. Classification of membership cards:
1. Membership cards can be divided into: PVC card, magnetic card, radio frequency ID card, IC card (radio frequency IC card, contact IC card), dual-interface IC card (magnetic stripe IC card, dual-interface contact IC card) ), the video card.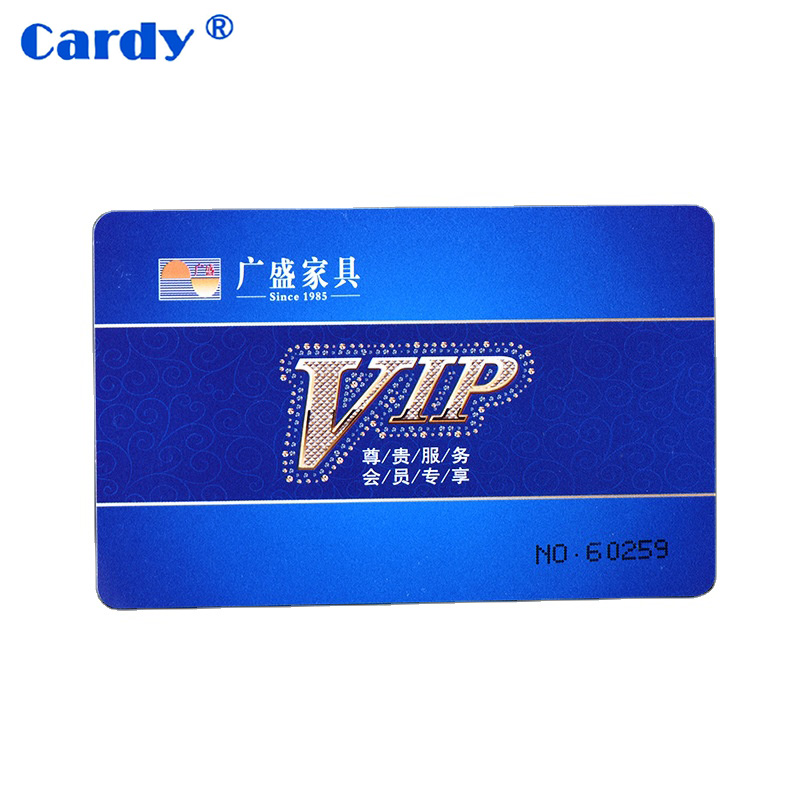 2. Membership cards can be divided into several types according to materials: ordinary printed membership cards, magnetic stripe membership cards, IC membership cards, ID membership cards, and metal membership cards.

3. According to the industry, membership cards can be divided into: hotel membership cards, gourmet membership cards, travel membership cards, medical membership cards, hairdressing membership cards, clothing membership cards, and Internet cafe membership cards.

4. Membership cards can be classified according to grades: VIP membership card, membership gold card, member silver card, and ordinary membership card.

5. Membership cards can be classified according to their functions: prepaid membership cards, cash-back membership cards, integral membership cards, and discount membership cards.

6. According to the issuer, membership cards can be divided into: ordinary membership cards and third-party membership cards.

7. Membership card production process is divided into: matte card, transparent card, matte card, glossy card, magnetic stripe card, barcode card;
3. Chip type for making membership card:
Most of the membership cards we often make use magnetic stripe cards. With the development of technology, many shopping malls are now using ID cards or IC cards. Currently available chips are: ID chips (domestic TK4100, IDUA1001, EM4100, low-frequency T5577), etc.; IC chips: contact chips (4442, 4428, 4412, 24C series chips), inductive chips (domestic F08, S50, S70 , IISI, 4439, Kunray) and other chips.
4. Membership card production process:
Chengdu Rongka Technology Co., Ltd. produces membership cards with the following processes: matte surface, frosted surface, UV card, hot stamping, silver hot stamping, film coating, color printing, smooth surface, laser code, inkjet code, UV code and other processes.
5. Application field of membership card:
At present, the application of membership card is quite extensive. At present, it is mainly used in hotels, catering, tourism, medical care, hairdressing, clothing, Internet cafes, supermarkets, shopping malls, entertainment, etc.
6. Price of membership card:
The price of the membership card is affected by many factors, such as the type of chip packaged in the membership card, the manufacturing process, the materials used, the number of customized membership cards, and other factors. The more the number of customized membership cards, the more favorable the price. Others include whether the card includes tax, whether it includes freight, how long the card production cycle is, and whether an expedited fee is required. These should be confirmed in the early stage to avoid some The problem is discussed after the card is completed, which leads to unpleasantness. In the actual transaction process, there will also be some things that are not clearly stated in advance, and then the money will be added, which will lead to unhappy communication, so we must pay special attention to this.

As for the price of a customized membership card, it must be determined according to your own needs. Now that the card making is very transparent, the prices are actually the same. The difference lies in the difference in quality and production level. Choose the corresponding quality corresponding price.