Smart Retail
2022-11-21
RFID smart library can realize automatic inventory, self-service borrowing, automatic sorting, anti-theft and other management functions. Traditional barcode identification and security magnetic strip anti-theft, these two measures are common means of circulation management and security prevention in libraries. However, the development of the times and the continuous improvement of the level of science and technology have led to the rapid rise of digital books and higher requirements for the technical management of libraries. Therefore, RFID technology is widely used in the management of logistics, vehicles, passenger luggage, etc. Advanced automatic identification technology has gradually begun to be applied to library management. The application of this new technology in the library can carry out efficient and convenient self-service borrowing, searching, inventory and many other aspects of book management, which has greatly improved the management service work of university libraries.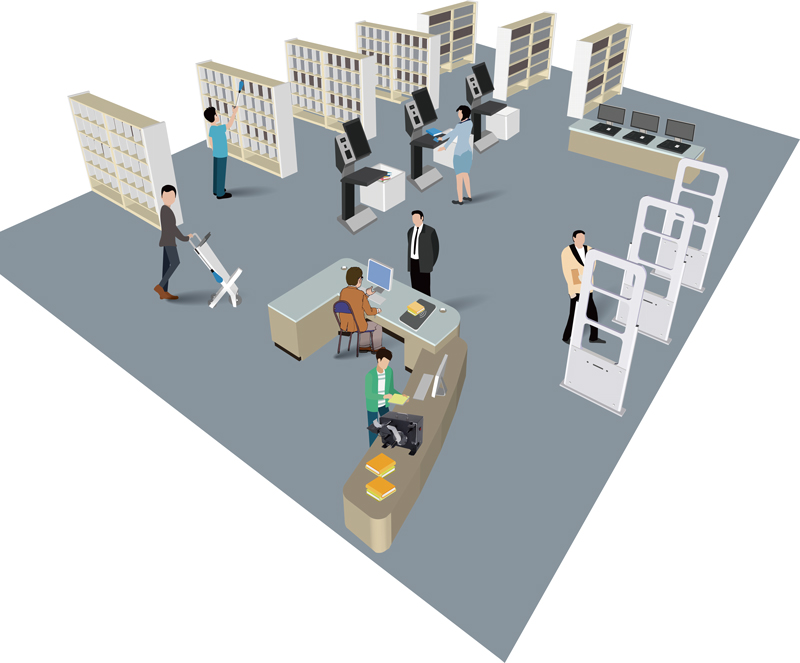 RFID Tag Converting Equipment : The main function of a tag converting system is to read, write, encode and distribute RFID tags. RFID tags store the information needed to identify and track book collection files, including book number, title, retrieval number, shelf information, borrower information, borrowing date, etc.
Portable RFID point inspection equipment : By scanning the circulation data with RFID tags on the bookshelves, it can realize the functions of wrong shelf inspection, shelf arrangement, shelf arrangement, reverse shelf, rejection, reading statistics, data collection and processing, etc.


Librarian Workstation : Integrate RFID identification system, card reader identification system, barcode gun, magnetization and demagnetization instrument, display and other equipment. It has the functions of librarian management, reader self-service operation, double-sided synchronous display, etc. It can borrow and return multiple books at the same time, magnetize and demagnetize.

Self-service borrowing and returning equipment : Readers can scan, identify and borrow circulation documents by themselves, and borrow and return documents by themselves. It can print IOUs and get receipts. It is easy to operate and can run 24 hours a day.

In addition, there are smart bookshelves, smart bookcases and other complete machine products that can realize automatic inventory, as well as supporting hardware equipment for systems such as automatic sorting and automatic shelving. Users can choose and match according to their own needs.
 
The application of RFID technology in the library has injected new blood into the library management service. This technological innovation has greatly reduced the original heavy work of the staff and greatly liberated manpower. The improvement of library work efficiency and service quality is of great impetus and significance, and it plays a huge role in many aspects such as library borrowing and returning process, security and anti-theft, sorting and inventory.