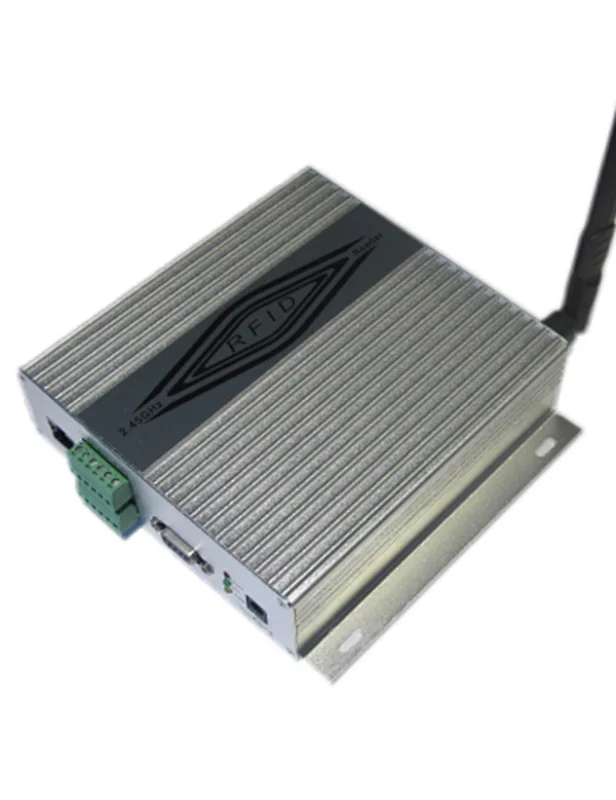 KD801 2.4G Omni-direction Reader
KD801 2.4G Omni-direction Reader
KD801 2.4G Omni-direction Reader
KD801 2.4G, Omni-direction Reader, has the characteristics such as wide coverage of identification, long reading distance, fast reading speed, high recognition rate, stable reliability, multiple expandability, etc.
Built-in circuit to adjust and control the reading distance and to test the signal strength of RSSI tag. The reading distance within the range of 0 to 200 meters could be managed by the software.
Application: obstacles in the communication, reading distance more than 10 meters, eg. Open channel management, industrial signal collection, personnel positioning, attendance management, goods management and monitoring, manufacturing management, transportation management , etc.
Specification
1) Working Frequency: ISM(2.4-2.48GHz ).
2) The built-in software adjusts the digital attenuator, as well as the reading distance.
3) Integrated circuit for detecting the signal strength of RSSI tag, for real-time monitoring the distance between the tag and reader.
4) Support RS-232 port, 10M/100M adaptive Ethernet communication interface.
5) Offer the input control of isolated two-way photoelectric, and the output control of two-way electric signal.
6) Users get convenient and rapid integration and application with the help of API development kit and C++, C# application routines.
Parameter
Working Frequency
ISM Frequency 2.4-2.48GHz
Output Power
Max output +15dBm, built-in 32db power attenuator,
Reducing step at -2db, software control
Receiving sensitivity
-93dBm
The tag Received Signal Strength Indicator(RSSI)
-50dBm- -80 dBm, precision ±1dB
Antenna
External antenna, standard 6dbi omni antenna, can be customized
Communication Interface
Communication interface
RS-232 interface, 10/100M self-adaption ethernet
Communication extension interface
RS-485 interface, wiggins 26/34 interface(need to be customized)
GPIO Interface
input of isolated two-way photoelectric (5V,<20mA);
output of two-way relay control (30V,<1000mA),
need customized
Firmware update
Through a special upgrade software,
support online upgrade of serial port
Application software interface
Offer API development kit and C++, C# application routines
Tag Operation
Tag Protocol
Enterprise private agreement,
could be customized according to the customers' agreement
Tag reading distance
0~120 meters(the actual reading distance is related to the type of antenna, the environment, type of label)
Qty of Identified tag
240 pcs/s(Ethernet connection test)
Anti-collision ability
500pcs tags
Mechanical and electrical performance
Size
168mm×145mm×42.5mm (not including antenna)
Weight
500g
Power
Power converter with 220V AC input
DC 5V/2A output
Power consumption
Standby 200mw
working 400mw
Working temperature
-40°C~+60°C
Storage temperature
-60°C~+80°C
Working Humidity
5% ~ 95%(no condensation)
Waterproofing grade
IEC IP55
Seismic resistance
10~500Hz, 100mm/15g, triaxial
Installation Way
Desktop or wall hanging