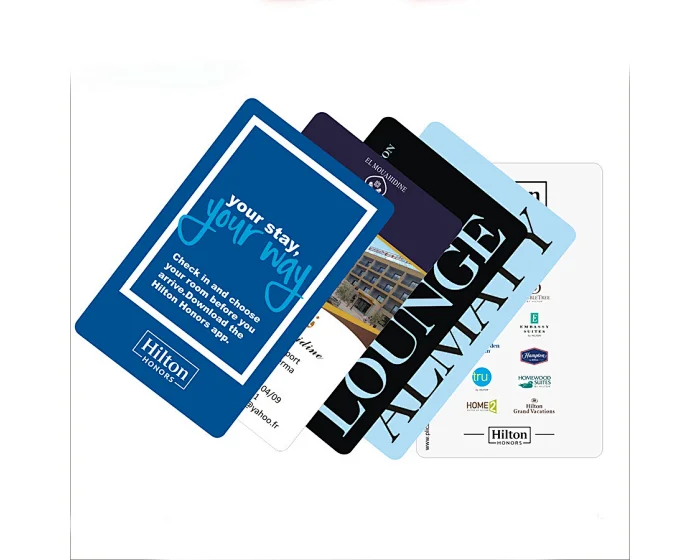 Graphic Customization card PVC NTAG213 NTAG215 NTAG216 RFID NFC Access Control Hotel Key Cards
US $0.22 - US $0.45
NTAG213, NTAG215 and NTAG216 have been developed by NXP Semiconductors as standard NFC tag ICs to be used in mass market applications such as retail, gaming and consumer electronics, in combination with NFC devices or NFC compliant Proximity Coupling Devices. 

NTAG213, NTAG215 and NTAG216 (from now on, generally called NTAG21x) are designed to fully comply to NFC Forum Type 2 Tag (Ref. 2) and ISO/IEC14443 Type A (Ref. 1) specifications. Target applications include Out-of-Home and print media smart advertisement, SoLoMo applications, product authentication, NFC shelf labels, mobile companion tags. Target use cases include Out-of-Home smart advertisement, product authentication, mobile companion tags, Bluetooth or Wi-Fi pairing, electronic shelf labels and business cards. NTAG21x memory can also be segmented to implement multiple applications at the same time. Thanks to the high input capacitance, NTAG21x tag ICs are particularly tailored for applications requiring small footprints, without compromise on performance. Small NFC tags can be more easily embedded into e.g. product labels or electronic devices. The mechanical and electrical specifications of NTAG21x are tailored to meet the requirements of inlay and tag manufacturers. 1.1 Contactless energy and data transfer Communication to NTAG21x can be established only when the IC is connected to an antenna. Form and specification of the coil is out of scope of this document. When NTAG21x is positioned in the RF field, the high speed RF communication interface allows the transmission of the data with a baud rate of 106 kbit/s.NXP Semiconductors NTAG213/215/216 NFC Forum T2T compliant IC with 144/504/888 bytes. 
Special Features:Waterproof / Weatherproof

Communication Interface:RFID, NFC

Place of Origin:Guangdong, China

Brand Name:Cardy / OEM

Model Number:NTAG213 NTAG215 NTAG216

Frequency:13.56Mhz, 13.56MHz

Material:PVC/PET/ABS

Size:85.5*54mm

Chip:NTAG213 NTAG215 NTAG216

Printing:CMYK 4C Printing/offsetting/silkscreen Printing

protocol:ISO14443A

Surface:Glossy, matte or frosted

MOQ:200pcs

Application:name card, etc

Lead time:7-9 Days
Printing equipment:
Heidelberg offset printing machine

Magnetic Stripe Line:
* Low-coercivity (loco) at 300 Oe or 600 Oe;
* High-coercivity (hico) at 2750 Oe or 4000 Oe.
Loco is mainly used for membership card, loyalty card, points card, etc;
Hico is mainly used for bank card, access control card, hotel key card and some other cards which requires a higher security and
complexity.
Different Frequencies Reading Distance:
LF(125KHz) ≤ 0.1M
0.1M ≤ HF(13.56MHz) ≤ 1.2M
2M ≤ UHF(860-960KHz) ≤ 10M

Card Printing:
CMYK Offset printing / Silk screen printing / Digital printing
technology is beginning to establish itself as a smart solution to everyday problems. Card uses range from Access Control, Live data collection/transfer,
contactless payments and many, many more.Quickly becoming a
widespread phenomenon.
That work with most major lock manufacturers' RFID guestroom lock systems, including:
Onity, Saflok, Kaba,Salto and MIWA, etc. We will provide a sample pack for testing
the exact RFID chip card to your system.
We apply strategic and creative thinking to solving our clients' problems. Our end products are strategically crafted solutions
that work and just look amazing!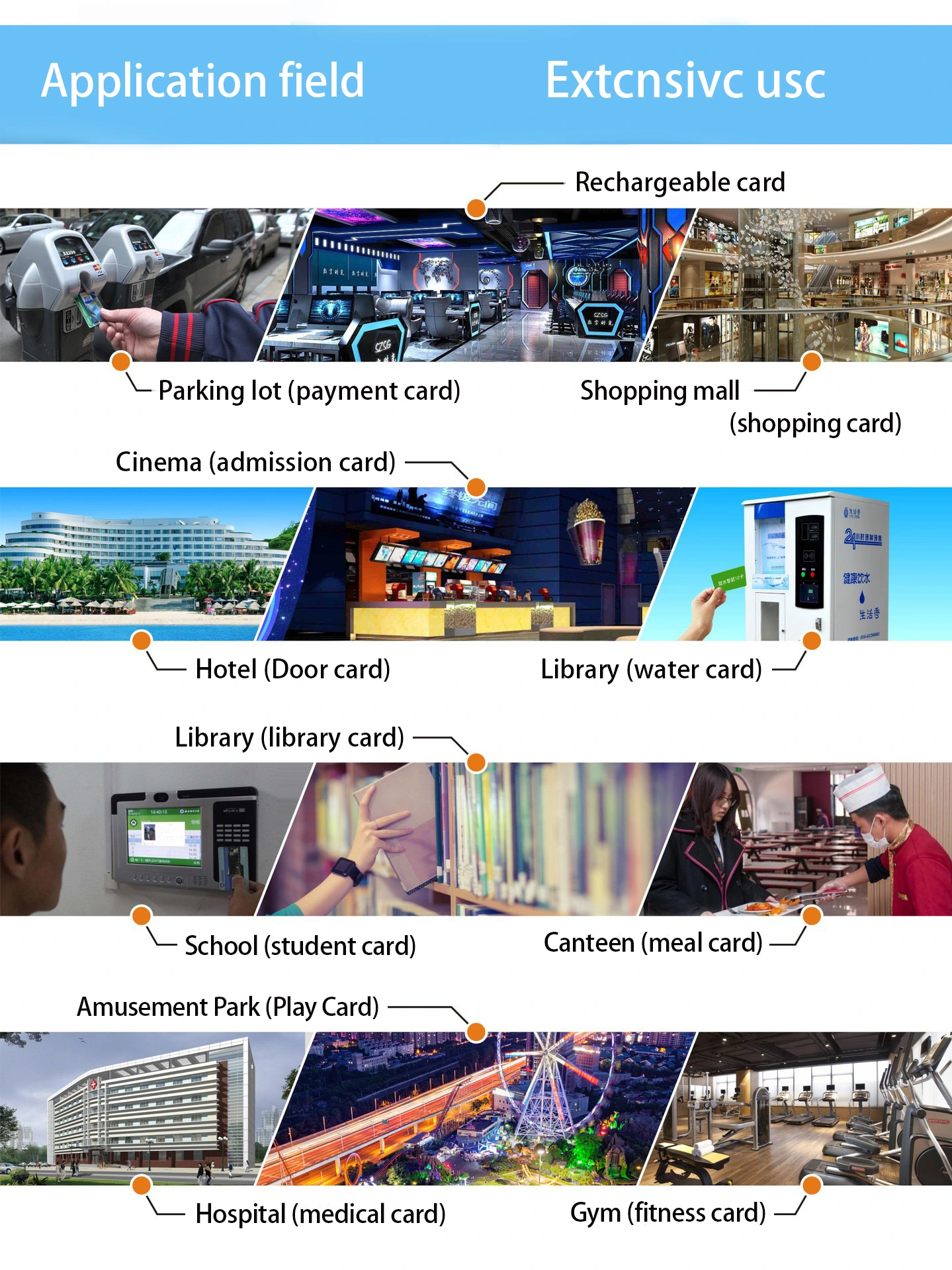 We have many kinds of style for choosing, IC card, magnetic stripe card, differrent frequency 125khz,13.56mhz and 860-960mhz, and available chips, like T5577, F08, S70, etc. The pricture below are our style for you to choose,and we can customize as you request.
0.76mm-0.86mm or customized

TK4100 / EM4200 / ATMEL T5577 / HITAG1 / HITAG2 / EM4305 / EM4200 / MIFARE® DESFIRE® EV1 / MIFARE Classic® 4K / Mifare S50 / Mifare S70 / Mifare Ultralight® EV1 / Mifare DESFIRE® EV1 2K / DESFIRE® EV4K / DESFIRE® EV8K / NTAG213 / NTAG215 / NTAG216 / NTAG424 / Alien9662 / F08 / MIFARE Plus® S2K / MIFARE Plus® S4K / MIFARE Plus® X2K / MIFARE Plus® X4K etc. Please consult our customer office for more chips.

LF 125KHz、HF 13.56MHz、UHF 840-960MHz

Glossy/Matt/Frosted or customized

a. Glitter gold/silver background
b. Loco 300oe/600oe magstripe , Hico 2750oe/4000oe magstripe
c. 4-color offset printing , Silk-screen printing ,Thermal printingd.UV spot logo
d. thermal/DOD/Inkjet printing serial/UID numbers
e. Laser engraving serial/UID number (brown/grey)
h. Digit printing , Magnetic stripe(300oe, 2750oe), Barcode
i. Encoding and Encryption

Custom printing Logos & Number, Laser Serial Number, UID number,Chip encoding , Anti-metal layer , Back adhesive , Epoxy cover

Corporations, Hotel, School, advertisement, Health care, Travel, Access Control & Security, Bank, Supermarket, Time
Attendance,Parking and Payment, Club/SPA Membership Management ,Campus one-card, Public transportation, Event ticketing, Loyalty
card, Bus- stored value card, RFID contactless card in freeway collection toll, Residential management, Stored-value and the like
areas.

Standard size card packing: 500pcs/inner box, 2000pcs or 3000pcs/ctn.Irregular size(except the standard size), normal we packed
100pcs/Opp bag and then in carton, or packed per your request.