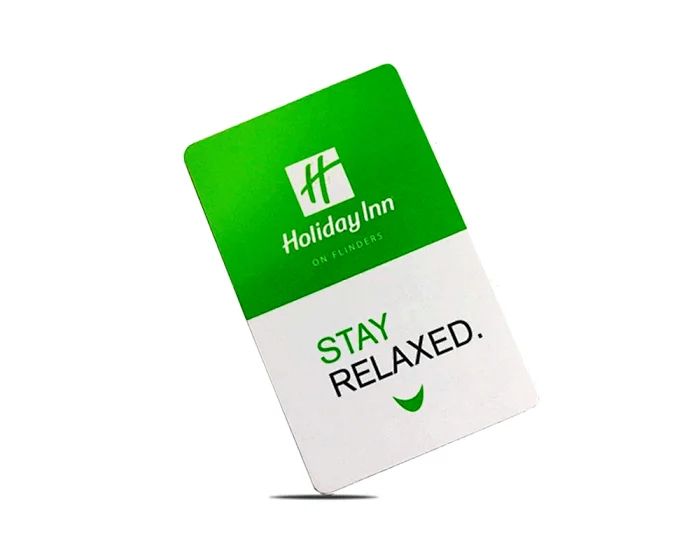 Contactless T5577 PVC Hotel Room Door Check In Access Control RFID NFC Smart Chip Key Card
US $0.20 - US $0.35
  Product Description                           
Special Features:Waterproof / Weatherproof

Chip introduction: T5557 is a multi -functional non -contact R/W recognition integrated circuit produced by ATMEL in the United States, which is suitable for 125KHz frequency range. The chip needs to connect an antenna coil, which is regarded as the power -driven supply of the chip circuit and the communication interface of the two -way information. The antenna and chip form a sensor card or label.

T5567 non-contact IC thin card, composed of IC chip and induction antenna, is pressed into a card of international standard size by high-temperature lamination process. The original T5567 chip used in the T5567 RF thin card has a variety of working modes, high stability and a wide range of applications. It is an inductive smart door lock, channel system, attendance system, identification, property identification, and process control. , Parking, logistics, animal identification, identification, industrial automation, conference attendance, electronic tags, supermarkets, warehouse management, personnel management, security systems and other preferred RFID products. In addition, we can package the T5557 chip into various special-shaped cards. Cards can be pre-printed with high quality offset/silkscreen at the factory, or personalized with a small printer.

The hotel card is a hotel co-branded card jointly issued by major hotels and banks. It provides cardholders with special services such as preferential treatment for hotel reservations, discounted room rates and even extended room reservation time. For travel, the most important thing is travel and accommodation. Only when you live comfortably can you travel and relax. With a hotel co-branded card, you can quickly obtain elite membership and points to achieve a luxurious travel and accommodation experience.

Communication Interface:RFID, NFC

Place of Origin:Guangdong, China                                                                   

Brand Name:Cardy

Frequency:125Khz

Material:PVC / PET / ABS

Finish:Glossy/Matte/Frosted

Size:85.5*54mm/customized

Certification:ISO,ROSH

Lead time:7-9 days

Delivery:By courier express, By air, By sea

Service:OEM can be available

Customized support:Customized logo

Craft:Laser CodeUV InkSerial NumberEmbossingThermal Printing

MOQ:200pcs
Technology is Beginning to Establish itset as a sart solution to everyday problem. Card users range from access control, live data collection/transfer,
contactless payments and many, many more.quickly becoming a
widespream phenomenon.
That work with most major lock manufacturers' rfid guestroom lock systems, influding:
Onity, Saflok, Kaba, Salto and MIWA, ETC. We Will Provide a Sample Pack for Testing
The exact RFID Chip Card to your system.
We Apply Strategic and Creative Thinking to Solving Our Clients' Privems. Our End Products Are Strategical CraFted Solutions that Work and Just LOOK AMAZING !